Aromatherapy with a therapeutic massage offers emotional balance, re-focusing, and a remarkable ability to help you relax. I am going to talk with you about 3 powerhouse essential oils that we use with our clients.
There is nothing like a quality massage to workout last week's kinks in the body. The feeling of professional hands kneading your overworked calves, over-stressed kinks in the neck, and the relentless knots that haunt your shoulder blades! Ugh. 
A lot like you, I am a big fan of a good quality massage. However, we are all a little different in how we like our massage.
Take chatting, for instance. I prefer very little talking with my massage. Still, I understand helping the therapist build a rapport with me allows me to receive a better massage and a better connection to the therapist.
Some people enjoy chatting or talking during their massage, which can offer them a therapeutic release. To each their own, right?
But a good chat and some tension relief in your body isn't everything that should come with a good massage. There can be a relaxing atmosphere, a comfortable private room, and induced trans music to help set the mood that comes with a good quality massage.
Aromatherapy with Bnatural Lavender Essential Oil
My favorite of all is the aroma of quality essential oils with my massage. Typically, I seek out massages to help me relax and rejuvenate. So, I like my aroma to be relaxing and calming to help me find that sweet spot between sleep and daydreaming.
Organic Lavender essential oil is my go-to with a massage. There is something profoundly relaxing with the lavender aroma. The sweet smell of lavender, long gliding strokes against my sore muscles, ambient room, and relaxing music is the perfect massage for me.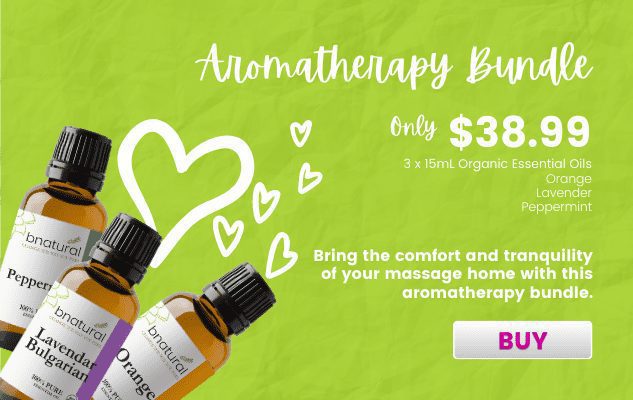 Aromatherapy with Bnatural Orange Essential Oil
Orange essential oil is a quick way to stir up those dopamines to get those feel-good feelings going. Have your massage therapist add a few drops to the diffuser, or have you take a few good whiffs from the bottle right before your massage.
Bnatural orange essential oil, known for being a mood booster, has immediate effects of brushing off your bad days and placing an infectious smile on your face for all to see.
Aromatherapy with Bnatural Peppermint Essential Oil
Every once in a while, I like to start my day with a massage, and when I do, I always use peppermint essential oil. It offers me a great way to stimulate my mind and sets me in focus mode to take on the day.
Here at the massage center, we only use Bnaturals quality essential oils with all of our massages. Besides the high quality of a professional massage and an atmosphere you could practically live in, what helps us stand out is that we offer aromatherapy for free.
I know! How fun is that?
We offer three organic choices of Bnatural essential oils: Orange, Peppermint, and my favorite, Lavender.
If you haven't experienced a quality massage from Orem Center for Massage, now might be a good time. Come on in and unwind, rejuvenate, and get a massage.
See you there!